Esther Shaw, P.E., - President
Esther M. Shaw-Smith, PE, PTOE is the Branch Manager of the Oklahoma office of Lee Engineering, a specialty traffic engineering firm founded over 29 years ago with offices in Phoenix, Dallas, Albuquerque, and San Antonio. She has held this position since the office was opened in January 2012. She is responsible for the primary project management, engineering design, and business development duties for the office. Lee Engineering performs traffic engineering work for ODOT, OTA, local municipalities, professional design consultant firms, and developers. Esther has worked in the consultant field for over 14 years and has experience in the government sector.

Esther received her Bachelor of Science degree in Civil Engineering from the University of Oklahoma. She is a registered Professional Engineer in Oklahoma and Texas, a registered Professional Traffic Operations Engineer, a member of the Institute of Transportation Engineers, the American Society of Civil Engineers, the American Public Works Association, the Society of American Military Engineers, and the OU Alumni Association. Esther has been a member of the Oklahoma Traffic Engineering Association since 2005.

Esther and her husband Chris live in Norman and have two sons, Eli & Daniel.
Dr. Alan Soltani, P.E., PhD - Vice President
Alan Soltani is an accomplished civil engineer with experience in transportation, aviation, planning, general civil, program management and construction management. His career spans over 40 years in public and private sectors including 16 years at ODOT where he served as the state chief traffic engineer. He has been in the private industry since he left ODOT in 1999 and is a registered professional engineer in 32 states. He is the President and new owner of Standard Testing & Engineering, LLC in Oklahoma City.

Alan has been a member of OTEA since 1983. He has a Bachelor of Science, Master of Science and Ph.D., in Civil Engineering from The University of Oklahoma and a Master of Business Administration in Finance from Oklahoma City University.

Alan lives in Edmond and has one daughter Nema, who is helping him run Standard Testing. He also has a grandson, Chase, who is a senior in high school and just enlisted in the U.S. Army and plans to become a paratrooper in Airborne school. A granddaughter, Katelyn, who is studying nursing and he is very proud of his great grandson, Cole, who is 18 months old.
Chad Pendley, P.E. - ODOT/OTA/FHWA Director
Chad began his career with ODOT in 2012 as the Division Two Traffic Engineer in southeastern Oklahoma and held that position until becoming Chief Traffic Engineer for ODOT Traffic Division in November 2016. Chad has been a registered Professional Engineer since 2003. He was born in Big Spring, Texas and holds a bachelor's degree in Engineering Technology from the University of North Texas.

He and his wife, Cathye, have five children, three grandchildren and currently reside in Antlers.
Shelly L. Williams, P.E. - City/County Director
Shelly Williams received a Bachelor of Science degree from East Central University in Business Administration/Management in 1987. Upon graduation, she went to work for the Oklahoma Department of Transportation (ODOT) in Ada, OK, working in the construction residency. She held various positions over the next ten years, auditing projects, working with the survey crew, performing materials testing, and construction inspection before returning to school to complete her Civil Engineering degree from the University of Oklahoma in 2002. She became a registered Professional Engineer in 2008.

Upon graduation, she held several positions at ODOT, assisting the Division 3 Traffic Engineer and supervising Traffic crews, assisting the Division Maintenance Engineer and supervising Maintenance crews, then later became the Local Government and Division 3 Bridge Engineer. She spent a short time as the Resident Engineer for the Stillwater Residency before returning to Ada to once again, assuming the role of Local Government and Division 3 Bridge Engineer. She is a Certified Public Manager, has served as an ODOT Survey School Instructor and had NICET Certification in Survey, and served as ODOT Director appointed member of the ODOT Engineering Development Council. She is currently the President of the Oklahoma Association of County Engineers.

After a brief time working as an engineer in the private and municipal sectors, Shelly accepted the position of Traffic Engineer for Division 3 in Ada. She began her new job in June of 2018.

She has one daughter who works for ODOT. Her father, John Hayden also retired from ODOT, making 3 generations at ODOT.

Her passion is horses. She team roped for 25 years before trading in her rope horses to pursue reining and working cow horses. She finished 2017 as the Oklahoma Stock Horse Novice Champion. She is involved in the music ministry of her church. She founded an outreach cowboy ministry called The Cowboy Fellowship and co-founded Wings of Hope, a support group for parents who have lost children.
Robert Powell, P.E. - Consultant Director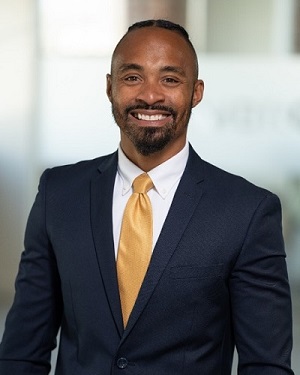 Mr. Powell currently works as an Engineering Consultant with Benham specializing in traffic. A native of Oklahoma City, Robert opted to expand his comfort zone and completed his higher education in both Texas and Massachusetts where he earned his Masters of Transportation and Bachelor of Science in Civil Engineering at the Massachusetts Institute of Technology and Prairie View A&M University, respectively. Prior to returning to Oklahoma and joining Benham, between school and shortly after Robert had a short stint with the USDA Forest Service overseeing construction and maintenance of roads and facilities within the Coconino and Kaibab National Forests in Flagstaff, AZ.

Born and raised in the inner city, Mr. Powell is most proud to be included in the design and construction of the built environment he spent the majority of his life traveling.

Mr. Powell's interests include blogging and vlogging on topics related to developing as a millennial traffic engineer, fitness, productivity and overall becoming the best version of oneself.

As your OTEA Consultant Director, Mr. Powell looks forward to serving OTEA members in the capacity of not only participating in the planning and coordination of fall and spring meetings, but also serving as a Swiss army knife for the needs of both the other OTEA Board team members as well as the organization as a whole.
Brandon Parduhn - Supplier/Contractor Director
Brandon Parduhn, born and raised in Edmond, Oklahoma, is a sales associate at Pelco Structural in Claremore, Oklahoma. Pelco Structural, founded in 2005, is a manufacturer of steel poles for the traffic, lighting, utility and communication industries.

Parduhn joined Pelco Structural in 2016, after working at Pelco Products in Edmond. In his capacity at the Claremore-based Pelco Structural, Parduhn devotes his time expanding and developing the traffic department.

He graduated from Oklahoma State University with his Bachelor's degree in Business Administration and is a proud supporter of his alma mater. He is is an alumni of Leadership Rogers County and a active member of the Tulsa Young Professionals and Claremore Collective. Brandon enjoys volunteering, spending time with his family, traveling, camping and watching sports.
B.J. Hawkins, P.E., P.T.O.E. - Past President
B.J. Hawkins was born and raised in Oklahoma. He received his bachelor's degree in Civil Engineering from the University of Oklahoma in 2006. Upon graduation he joined Traffic Engineering Consultants, Inc. (TEC) full-time after interning there during college. He worked at the TEC Tulsa office for 3 years before relocating back to the Oklahoma City office in 2009.

B.J. is a registered Professional Engineer in Oklahoma and Texas and has also obtained his Professional Traffic Operations Engineer certification. He is responsible for a variety of projects including conducting traffic impact studies and designing traffic signal, signing, striping, and lighting plans. B.J. has been married to his wife Julie since 2006 and has one son, Carson.
Angelo Lombardo, P.E. - Secretary/Treasurer/OTEField Editor
Angelo Lombardo is the City Traffic Engineer in Norman, Oklahoma. He has held that position since October 1 of 1992. He manages the City's Traffic Control Division in the Public Works Department which is responsible for the design, maintenance and operation of 170 traffic signals, more than 35,000 traffic control signs and pavement markings on more than 500 miles of roadways.

Angelo received his Bachelor and Master of Science Degrees in Civil Engineering from the University of Oklahoma in 1983 and 1984 respectively. Upon graduation he joined the Oklahoma Department of Transportation and completed their Engineer-in-Training Program in May of 1985. He then joined ODOT's Traffic Engineering Division where he worked until September of 1992.

He is a registered Professional Engineer in the State of Oklahoma, a member of the Institute of Transportation Engineers and its Missouri Valley Section, where he currently serves as President in the Board of Direction. He has been a member of the Oklahoma Traffic Engineering Association since 1986 and has been President and City/State/County Director, and currently serves as the Secretary-Treasurer and Editor of the OTEField - the organization's quarterly Newsletter.

Angelo has been married to his wife Annie for 25 years. Annie is also an engineer and works for ODOT's Bridge Division as an Engineering Manager. They have four children, Alicia - a Physician Assistant and recent graduate from Marquette University, Anna - a graduate student at Marquette University majoring in Speech Pathology, Maria - a junior majoring in nursing also at Marquette University, and Michael Angelo, a freshman at the Rhode Island School of Design majoring in art.