Derick Millican, P.E. P.T.O.E., R.S.P - President
Derick Millican is a Lead Engineer in the Oklahoma City office, specializing in traffic analysis and design. He is passionate about considering both innovative and conventional design solutions to meet multimodal transportation needs, teamwork, continuous development, project management, and taking advantage of opportunities to positively impact roadway safety for all modes.

His responsibilities include traffic signal design, temporary traffic control, signing and striping, roadway lighting design, traffic studies including operational and safety analysis, pedestrian-bicycle oriented design, geometric design, and roadside design including guardrail and barrier layouts. Derick has worked for Olsson for 4+ years and has been a consulting engineer for over 15 years.

Derick received his Bachelor of Science Degree in Civil Engineering from Oklahoma State University in 2005. He is a registered Professional Engineer in the States of Oklahoma, Kansas, and Arkansas, and he has been a member of OTEA since 2012 and ITE since 2008. Derick earned his Professional Traffic Operations Engineer(PTOE) certification in 2010 and his Roadway Safety Professional (RSP1) certification in 2018 joining the first class of RSP1 certificants.

Derick has been married to his wife Jodie, an industrial engineer at Tinker Air Force Base, for over 15 years. They have four children: Roland (age 12), Rayleigh (age 9), Remington Jean (age 7), and Rigsby (age 4). Outside of the office, Derick enjoys spending time with his family, playing boardgames, watching his children participate in soccer, basketball, and volleyball, hiking, cooking, and reading (suspense, fantasy, and nonfiction).
Luke Schmidt, P.E., P.T.O.E. - Vice President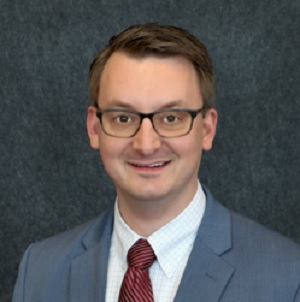 Luke Schmidt is a traffic engineering consultant with Kimley-Horn and Associates, Inc. in Oklahoma City. Luke's experience in transportation planning, traffic operations, and transportation engineering provides a holistic perspective of the traffic engineering profession. His practice in Oklahoma serves state agencies, local municipalities, developers, and other professional engineering firms across the state.

Luke graduated Magna Cum Laude from Iowa State University with a bachelor's degree in Civil Engineering. During his tenure, he was the President of the Tennis Club, Vice President of the Sports Club Council, Member of Chi Epsilon/ITE/ASCE, and was presented with the Outstanding Graduating Senior award from the College of Engineering. After graduation, Luke started with Kimley-Horn, and has been working there for nine years now.

Luke married his high school sweetheart, Erin. They have a 4-year-old named Cooper, a 1-year-old named Emma, and two rescue dogs to complete the circus. Luke's hobbies include family time at the Science Museum/Zoo, home remodeling, and wood working in his free time.

Luke is excited about the opportunity to serve this respected organization. He looks forward to the chance to bring his perspective and energy to the association, grow and connect the profession, and promote the field to the next generation.
Justin Calvarese, P.E. - Treasurer
Justin Calvarese works for the Oklahoma Department of Transportation (ODOT). For the last seven years, he has been the Division Traffic Engineer for Division 1 in Muskogee, OK. As a Division Traffic Engineer, Justin is responsible for issues involving signs, pavement markings, safety hardware (such as guardrail), driveway permits, traffic signals, and landscaping agreements along the state highway system within an eight-county region.

After graduating from Oklahoma State University with a Civil Engineering degree, Justin started working fulltime at ODOT's Central Office in Oklahoma City in 2001. He has been a licensed Professional Engineer since 2005.

Justin lives in Muskogee with his beautiful wife, Jessica, and their two sons. In his spare time, he likes participating in scouting activities with his older son Ian, cheering on his younger son Owen as he plays basketball, and spending time having fun with his family. He also enjoys reading and tinkering with computers and other technology.
Kyle Stevens, P.E. - ODOT/OTA/FHWA Director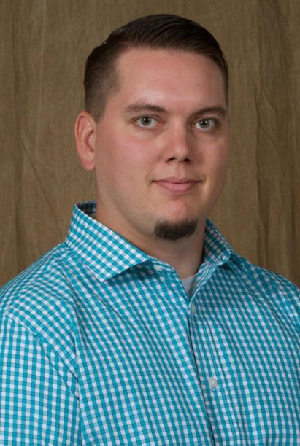 Kyle Stevens works for the Oklahoma Department of Transportation (ODOT). Since October 2018, he has been in the Traffic Engineer Division, He currently serves as the Traffic Field Operations Manager. Kyle is responsible for issues involving construction traffic control, signing, pavement markings, maintenance agreements, traffic safety projects, ancillary structure inspections, and many other maintenance and construction oriented traffic issues along the state highway system within the state of Oklahoma.

Kyle started working at ODOT in February 2009 with the bridge division. He later became the ADA Coordinator for the department. While in that role he implemented the state wide transition plan. In October 2018 Kyle took a position in the Traffic Engineering Division looking for another challenging and rewarding chapter to his career with the department.

Kyle currently lives in Newalla with his beautiful wife, Sarah, and daughter, Indie. When not working, he enjoys family time, tinkering with his hot rods, golfing, watching movies, and traveling.
Brian McNabb - City/County Director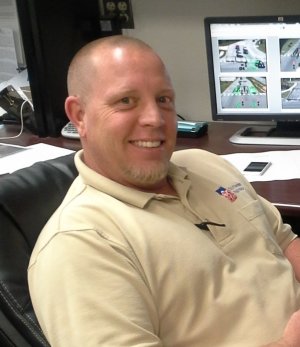 Brian McNabb is the Traffic Signal Supervisor for the City of Norman, where he has worked for the past 19 years. Brian is responsible for the maintenance and operation of the city's traffic signals, flashing beacon assemblies, lighted crosswalk systems, and city owned roadway lighting. The constant change in direction, coupled with the unexpected events in day to day operations, is the drive that keeps Brian excited with his position at the City of Norman. Brian is a past OTEA officer and enjoys assisting past and present board members whenever he can.

Brian and his wife, Canada, have two daughters, Emma and Aurora. When not spending time with family, Brian's hobbies include; hunting, fishing, traveling and perfecting his golf game.
Brandon Huxford, P.E. - Consultant Director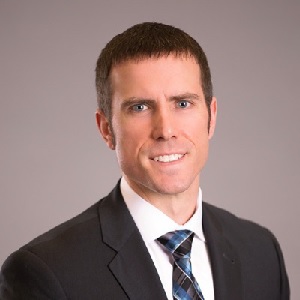 Brandon Huxford is a native Texan, in mid-conversion of becoming an Oklahoman. He received his bachelor's degree in Physics from Abilene Christian University in 2007, followed by his master's degree in Civil Engineering from the University of Texas in Arlington in 2010.

Brandon is currently licensed and performing work in several states, covering all three aspects of transportation; roadway design, traffic engineering, and transportation planning.

Brandon has spent his entire career with Freese and Nichols, starting with an internship while in gradschool, through his past several years in Oklahoma.

He currently lives in Edmond with his wife of 9 years, Jaclyn, and his two daughters (soon to be 3 daughters).
Len Scantling - Supplier/Contractor Director
Len Scantling is Executive Vice President of Midstate Traffic Control, Inc where he oversees all construction activities and project estimating. He has been with the company for 21 years and has 39 years' experience in the traffic safety industry.

Len and his wife Debbie have been married for 40 years. They have two children and four grandchildren.
Tammy Robinson, P.E. - Past President
Tammy is a graduate of Oklahoma State University with a degree in Civil Engineering. She started her career with ODOT at the Roadway Design Squad while attending OSU. She continued to work for ODOT in both the Roadway Design Division and at the El Reno Construction Residency in Division IV for about 9.5 years. At that time, she transferred to the Oklahoma Turnpike Authority as a Project Manager. While at OTA, she worked up to the position of Construction Engineer, managing all construction projects throughout the turnpike system. She was at OTA for about 7.5 years. After a short 2.5 year stint as a consultant engineer at EST managing a multitude of projects and types of work, Tammy went to work for Haskell Lemon Construction as the Chief Estimator. She has been there since 2014 working on a variety of projects.

Tammy is married to Roy and they are the proud parents of two boys: Alton, 15, and Reuben, 13. They live in Choctaw, OK