Tammy Robinson, P.E. - President
Tammy is a graduate of Oklahoma State University with a degree in Civil Engineering. She started her career with ODOT at the Roadway Design Squad while attending OSU. She continued to work for ODOT in both the Roadway Design Division and at the El Reno Construction Residency in Division IV for about 9.5 years. At that time, she transferred to the Oklahoma Turnpike Authority as a Project Manager. While at OTA, she worked up to the position of Construction Engineer, managing all construction projects throughout the turnpike system. She was at OTA for about 7.5 years. After a short 2.5 year stint as a consultant engineer at EST managing a multitude of projects and types of work, Tammy went to work for Haskell Lemon Construction as the Chief Estimator. She has been there since 2014 working on a variety of projects.

Tammy is married to Roy and they are the proud parents of two boys: Alton, 14, and Reuben, 12. They live in Choctaw, OK
Derick Millican, P.E. P.T.O.E., RSP - Vice President
Derick Millican is a Lead Engineer specializing in traffic analysis and design for Olsson's Roadway Team in the Oklahoma City office. He is passionate about considering both innovative and conventional design solutions to meet multimodal transportation needs, teamwork, continuous development, project management, and taking advantage of opportunities to positively impact roadway safety for all modes.

He was recently promoted to Lead Engineer in December 2018. His responsibilities include traffic signal design, temporary traffic control, signing and striping, roadway lighting design, traffic studies including operational and safety analysis, pedestrian-bicycle oriented design, geometric design, and roadside design including guardrail and barrier layouts. Derick has worked for Olsson for 2+ years and has been a consulting engineer for nearly 14 years.

Derick received his Bachelor of Science Degree in Civil Engineering from Oklahoma State University in 2005. He is a registered Professional Engineer in the States of Oklahoma, Kansas, and Arkansas, and he has been a member of OTEA since 2012 and ITE since 2008. Derick earned his Professional Traffic Operations Engineer (PTOE) certification in 2010 and his Roadway Safety Professional (RSP1) certification in 2018 joining the first class of RSP1 certificants.

Derick has been married to his wife Jodie, an industrial engineer at Tinker Air Force Base, for over 13 years. They have four children: Roland (age 10), Rayleigh (age 7), Remington Jean (age 5), and Rigsby (age 2). Outside of the office, Derick enjoys spending time with his family, watching his children participate in soccer, basketball, and robotics competitions, hiking, cooking, and reading.
Justin Calvarese, P.E. - ODOT/OTA/FHWA Director
Justin Calvarese works for the Oklahoma Department of Transportation (ODOT). For the last seven years, he has been the Division Traffic Engineer for Division 1 in Muskogee, OK. As a Division Traffic Engineer, Justin is responsible for issues involving signs, pavement markings, safety hardware (such as guardrail), driveway permits, traffic signals, and landscaping agreements along the state highway system within an eight-county region.

After graduating from Oklahoma State University with a Civil Engineering degree, Justin started working fulltime at ODOT's Central Office in Oklahoma City in 2001. He has been a licensed Professional Engineer since 2005.

Justin now lives in Muskogee with his beautiful wife, Jessica, and their two sons. When he's not working, he enjoys watching his son Owen play basketball and football, participating in Cub Scout activities with his son Ian, and tinkering around with technology (such as developing Alexa skills).
Brian McNabb - City/County Director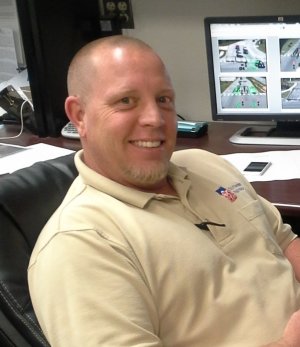 Brian McNabb is the Traffic Signal Supervisor for the City of Norman, where he has worked for the past 19 years. Brian is responsible for the maintenance and operation of the city's traffic signals, flashing beacon assemblies, lighted crosswalk systems, and city owned roadway lighting. The constant change in direction, coupled with the unexpected events in day to day operations, is the drive that keeps Brian excited with his position at the City of Norman. Brian is a past OTEA officer and enjoys assisting past and present board members whenever he can.

Brian and his wife, Canada, have two daughters, Emma and Aurora. When not spending time with family, Brian's hobbies include; hunting, fishing, traveling and perfecting his golf game.
Luke Schmidt, P.E., P.T.O.E. - Consultant Director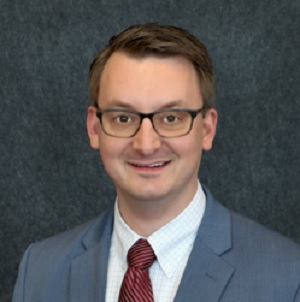 Luke Schmidt is a traffic engineering consultant with Kimley-Horn and Associates, Inc. in Oklahoma City. Luke's experience in transportation planning, traffic operations, and transportation engineering provides a holistic perspective of the traffic engineering profession. His practice in Oklahoma serves state agencies, local municipalities, developers, and other professional engineering firms across the state.

Luke graduated Magna Cum Laude from Iowa State University with a bachelor's degree in Civil Engineering. During his tenure, he was the President of the Tennis Club, Vice President of the Sports Club Council, Member of Chi Epsilon/ITE/ASCE, and was presented with the Outstanding Graduating Senior award from the College of Engineering. After graduation, Luke started with Kimley-Horn, and has been working there for nine years now.

Luke married his high school sweetheart, Erin. They have a 4-year-old named Cooper, a 1-year-old named Emma, and two rescue dogs to complete the circus. Luke's hobbies include family time at the Science Museum/Zoo, home remodeling, and wood working in his free time.

Luke is excited about the opportunity to serve this respected organization. He looks forward to the chance to bring his perspective and energy to the association, grow and connect the profession, and promote the field to the next generation.
Jason Ty Espinoza - Supplier/Contractor Director
Education
Bangs High School 90
Howard Payne University - Business Admin-Computer
Science 95
Football 4 Year Letterman - 2x Conference Champions
4 Year President- Zeta Theta Phi Fraternity

Military
United States Marine Corps - 6 years
Desert Storm Veteran - Meritorious Unit Citation -
Presidential Unit Citation - Navy Achievement Medal
National Defense Medal - Jump Master - Scuba UDT - 6
Year Rifle and Pistol Expert

Community
20 Year A.F.&A.M Master Mason (Blue Lodge)

I currently live in Brownwood Texas with my Wife Stacy and 3 Daughters Megan, Lauren and Braelyn. I am an avid golfer, hunter and enjoy all sports. I am a Motorcycle enthusiast and love the outdoors.

I have been a Sales Professional since 1997 and this fall will mark my 5th year as the Southwest Regional Manager for Shur-Tite Products overseeing Oklahoma, New Mexico and Texas.
Dr. Alan Soltani, P.E., PhD - President
Alan Soltani is an accomplished civil engineer with experience in transportation, aviation, planning, general civil, program management and construction management. His career spans over 40 years in public and private sectors including 16 years at ODOT where he served as the state chief traffic engineer. He has been in the private industry since he left ODOT in 1999 and is a registered professional engineer in 32 states. He is the President and new owner of Standard Testing & Engineering, LLC in Oklahoma City.

Alan has been a member of OTEA since 1983. He has a Bachelor of Science, Master of Science and Ph.D., in Civil Engineering from The University of Oklahoma and a Master of Business Administration in Finance from Oklahoma City University.

Alan lives in Edmond and has one daughter Nema, who is helping him run Standard Testing. He also has a grandson, Chase, who is a senior in high school and just enlisted in the U.S. Army and plans to become a paratrooper in Airborne school. A granddaughter, Katelyn, who is studying nursing and he is very proud of his great grandson, Cole, who is 18 months old.
Angelo Lombardo, P.E. - Secretary/Treasurer/OTEField Editor
Angelo Lombardo is the City Traffic Engineer in Norman, Oklahoma. He has held that position since October 1 of 1992. He manages the City's Traffic Control Division in the Public Works Department which is responsible for the design, maintenance and operation of 170 traffic signals, more than 35,000 traffic control signs and pavement markings on more than 500 miles of roadways.

Angelo received his Bachelor and Master of Science Degrees in Civil Engineering from the University of Oklahoma in 1983 and 1984 respectively. Upon graduation he joined the Oklahoma Department of Transportation and completed their Engineer-in-Training Program in May of 1985. He then joined ODOT's Traffic Engineering Division where he worked until September of 1992.

He is a registered Professional Engineer in the State of Oklahoma, a member of the Institute of Transportation Engineers and its Missouri Valley Section, where he currently serves as President in the Board of Direction. He has been a member of the Oklahoma Traffic Engineering Association since 1986 and has been President and City/State/County Director, and currently serves as the Secretary-Treasurer and Editor of the OTEField - the organization's quarterly Newsletter.

Angelo has been married to his wife Annie for 25 years. Annie is also an engineer and works for ODOT's Bridge Division as an Engineering Manager. They have four children, Alicia - a Physician Assistant and recent graduate from Marquette University, Anna - a graduate student at Marquette University majoring in Speech Pathology, Maria - a junior majoring in nursing also at Marquette University, and Michael Angelo, a freshman at the Rhode Island School of Design majoring in art.